Separador rectangular GyraMax de movimiento giratorio. Maximiza su productividad al separar y clasificar en grandes volúmenes con una o varias mallas, con un control total sobre la vibración permitiendo una recuperación totalmente eficiente de su producto.
Especifaciones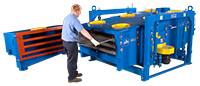 The GyraMax can increaseyour plant's productivity by reducing the costsassociated with routine maintenance and unscheduled repairs. That means fewer production outages and fewer instances of pulling employees away from other duties for unscheduled maintenance. It all adds up to less frustration, greater productivity, and lower production costs.
---
BIGMAX
The new SWECO BigMax Gyratory Sifter builds on the unparalleled success of the GyraMax line of sifters. Known for their durability, reliability and accuracy of separation, GyraMax sifters are used throughout the world to handle the most demanding screening applications such as activated carbon, fertilizer, frac sand, limestone, petroleum coke, plastic pellets, PVC powder, roofing granules, salt, sugar, and more. Now with the introduction of BigMax, SWECO adds high capacity screening to the list of GyraMax features. The BigMax provides extremely high capacity in a very compact, energy efficient footprint.